And you thought we forgot about part 3 of the CT Hot Dog Tour. Hell no! Our apologies as we have been quite busy with Wizard World Philly and our daily lives, but good things come to those that wait. Here is part three from Mark's perspective, Josh will certainly add his thoughts in part 4 to round out the series. That said, here we go! We began day two by picking up CB and heading toward's Blackie's, a renowned hot dog spot in the middle of CT. However my stomach and fate intervened. On our way up route 25, Botsford Drive In called to us. Since we couldn't pass up the opportunity to make an unscheduled detour (as you will see, a common theme of the day), we pulled over and grabbed a quick bite.
I have to admit, I was pleasantly surprised. Frankly (no pun intended), I don't think I had a bad dog the entire Saturday and Botsford kicked it off nicely. It could have been the hunger talking, but I thoroughly enjoyed the meal. Here's a quick pic:
Yup, cheese whiz, chili and raw onions. Tough to get a better combo. We grabbed a seat on the park benches out front and quickly consumed the meal. Happy, but still hungry, we quickly made our escape towards Blackies.
I don't remember how long Blackie's has been around and I'm feeling too lazy to look it up (if you are curious, I'm sure Google will assist you), but the old garage look does add some charm. Once inside I was informed that they only offer their celebrated relish (even so, not for me although CB seemed to enjoy it), mustard and ketchup. Despite what some might find to be plain, it could have been the best dog on the tour. Sometimes simple is best. The black and white shake rocked too! Here's a quick look at the locale and my two dogs:
In case you are wondering what their hours are, let me help you out:
I didn't think to ask why. Maybe they are big high school football fans. Guess that's another thing you'll have to google.
Feeling full and happy, we headed to the next destination, Danny's Drive In in Stratford. After three dogs, I think we all needed the time to digest. Good thing we had a 20-30 minute drive in front of us.
Danny's is a cool place. Reminded me a bit of an old school burger and dog joint from the movies. They were even playing Beach Blanket Bingo on the TV. I had a dog with bacon, onions and hot peppers, but I forgot to take a picture, so you'll just have to take my word for it. It had some nice heat to it, definitely one worth going back for again.
So fully satisfied, we left Danny's. We all agreed that we needed a break and CB started to play around with Untappd and/or Yelp on his phone. He quickly found a local brewery and with only about a 1/4 mile to make the decision, I pulled off an exit in Stratford and headed the car towards Two Roads Brewery (exit 31 off 95 if you want to check it out). As you can see, they are in an old factory. The inside, however, looked just like a modern brewery.
Josh was clearly excited when we arrived:
Hopefully that means "beer goes here" and not "too many hot dogs make Josh go something, something..."
As much as I was enjoying the varieties of hot dogs, Two Roads Brewery was not only the biggest surprise on the trip, but probably the best stop. I got this flight of 6 different beers for only twelve bucks. And yes, those are probably 8 to 10 oz glasses.
The hefeweizen and the double IPA were my favorites, but there wasn't a bad one in the lot. On the weekends they have food trucks stop by because the brewery only makes really good beer, not really good food too. We didn't stick around for food, but I did get a cool hat and place to come back next time I want some good beer. This probably sums up the experience best: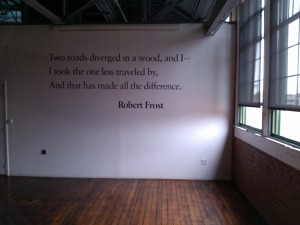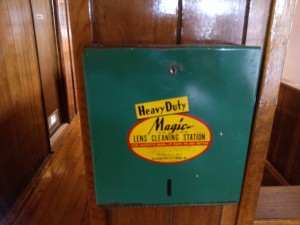 With big smiles on our faces, we headed to Fairfield to sample some dogs from Five O. They still have Kuhn's Chili and know exactly how much to put on the dog. Complete with toasted buns, it was almost impossible to believe that we were getting a hot dog from a convenient store and not a roadside stand that specializes in it. Yet another pleasant surprise on the day! I didn't get a good picture of the sign, but I did manage to get CB and Josh casually entering the joint.
We downed the delicious dog and then headed across town to one of our childhood hangouts, Rawleys. Complete with thousands of names carved into the tables and wood paneling, Rawley's is still one of my favorite places to grab a bite. I normally get a burger, but for the tour I had a dog and a black and white shake (another of my favorite Rawley's staples). Chili and a slice of cheese, simple yet effective:
And hey, how do you say no to Martha?
One more stop before CB had to catch a train. We rushed to Swanky Franks in Norwalk, but alas, they had just closed. So we decided to stop at The Ginger Man for a couple drinks instead. CB almost struck our ordering beer (the first two he asked for were kicked), but he did get the last glass of his third request. We polished off one more pint and then brought CB back to the train station, promises to do it all again soon.
All in all, a wonderful trip! Can't wait to do it again, maybe we can schedule something one more time before the summer is has passed us by. Hope you have enjoyed reading about our trip as well!
-Mark